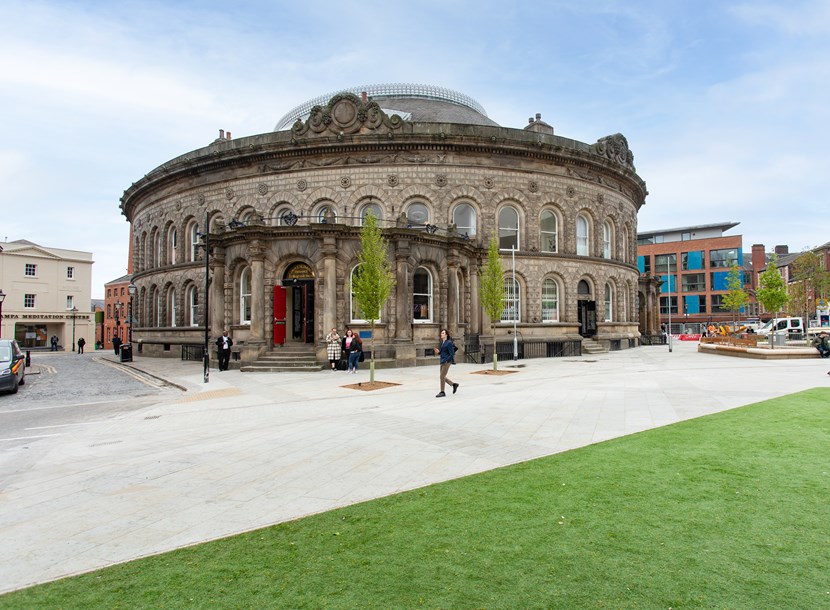 09 May 2022
Celebration time as world-famous Leeds landmark gets smart new surroundings
A stylish new look for one of the most famous spots in Leeds city centre will be officially unveiled at a fun-packed celebration event taking place this weekend.
The area around Leeds Corn Exchange has been transformed by both a public realm scheme and a major package of Connecting Leeds highways improvements, with the latter forming part of the £173.5m Leeds Public Transport Investment Programme (LPTIP).
Leeds City Council and its partners have spent the last year creating a world-class piece of pedestrianised open space in front of the Corn Exchange, acting as the perfect complement to the Grade I listed landmark. The building's owner, Rushbond plc, has played a key role in this public realm scheme, both as a design partner and co-funder.
The LPTIP highways work has seen new bus, cycle and pedestrian-friendly infrastructure being put in place in the area around the Corn Exchange and across the wider city centre – further delivering on the ongoing implementation of the council's Our Spaces strategy.
Both schemes – which, together with other public realm initiatives in Meadow Lane, Cookridge Street and Greek Street, underline the council's commitment to giving Leeds a greener, better connected and more inclusive city centre – are now poised for completion.
And this Saturday, May 14, that double milestone will be marked in style with a free day of entertainment and activities for all the family at the Corn Exchange, which was built in the 19th century and is today a top shopping destination.
Councillor Helen Hayden, Leeds City Council's executive member for infrastructure and climate, said:
"The Corn Exchange is one of the jewels in Leeds's crown and we are so pleased that it now has the high-quality setting that it deserves.
"The creation of the public space and the improvements to local roads will give the area an exciting new lease of life while at the same time encouraging active travel. People-focused infrastructure projects like these will also make our city more investable and help unlock its full commercial potential.
"We are very grateful for the support and patience shown by residents and businesses, including the city's bus operators, while the work has taken shape.
"Saturday's celebration event will be a great way to showcase the changes that have been made. It promises to be a real day to remember."
Nearly 1,750 square metres of public realm has been created outside the Corn Exchange by upgrading two existing pedestrian areas and removing the stretch of Call Lane that runs between New Market Street and Crown Street.
New seating, trees and sandstone paving are among the design features contributing to the welcoming nature of an accessible space that can be enjoyed day-to-day by shoppers, workers, local residents and visitors alike.
An integrated cycleway runs east-west adjacent to this plaza-style area, which will also serve as an ideal location for the kind of pop-up events and gatherings that add to the vibrancy of life in Leeds.
Jonathan Maud, managing director of Rushbond, said:
"It's thanks to the collective vision of all involved in this scheme that Leeds Corn Exchange now has a world-class public space fitting for this unique gem of a building and much-loved Leeds icon.
"Inspired by Cuthbert Brodrick's wonderful architecture with its striking roof structure, this important milestone will allow the building once again to play a central role in the city, linking the beautiful, buzzing interior of the Corn Exchange with an elegant outdoors space.
"With the scene set, we now have an opportunity to allow the magic that takes place inside the Corn Exchange to spill outside. Working with the independent businesses that make the Corn Exchange experience so different, the new public space will host all sorts of events and activities for everyone to enjoy."
Funding for the public realm scheme has been supplied by the council, Rushbond and the West Yorkshire Combined Authority, with the latter's share coming through the Government's Getting Building Fund. The work on site has been carried out by contractor John Sisk & Son Ltd.
Dominic Hodges, managing director of Sisk, said:
"Sisk is incredibly proud to be the contractor who delivered this impressive regeneration of the Corn Exchange. Most of the people employed by us on this scheme were from the Leeds area and feel privileged to be part of this transformation. We hope that this area will be enjoyed by many future generations."
The highways improvements around the Corn Exchange have been led by the council's Connecting Leeds team and have focused on prioritising buses, pedestrians and cyclists while aiming to reduce congestion in the city centre.
Wider pavements, safer cycleways, enhanced bus priority measures and new facilities for bus users now all form part of the streetscape in an area known as the Corn Exchange Gateway, which includes roads such as Call Lane, Bridge End, Lower Briggate, New Market Street, Kirkgate and Duncan Street as well as sections of Boar Lane and Vicar Lane.
Tracy Brabin, Mayor of West Yorkshire, said:
"Improving cycling, walking and public transport forms a key part of my pledge to tackle the climate emergency. I'm delighted that the Combined Authority is able to play its part, not only in this scheme but others around our town and city centres, to create more green spaces and space for active travel.
"The Corn Exchange is a landmark building in Leeds, so it's fantastic to see these changes, which will make the area more welcoming to people visiting, working or living in Leeds."
The Corn Exchange Gateway work – and other initiatives such as the construction of Aire Park and the general traffic-free overhaul of City Square – will support the council's net zero ambitions and its vision of Leeds as a place where people don't need a car to get around.
The transformation of the Corn Exchange area also complements and connects with regeneration efforts in nearby Kirkgate. Projects here include the recently-completed restoration by Rushbond of the historic First White Cloth Hall building and the conservation and reuse of other properties as part of the Lower Kirkgate Townscape Heritage Initiative.
Work at Meadow Lane, meanwhile, has seen the narrowing of the highway, the removal of the old Hunslet Lane surface car park and the creation of new green space as part of the flagship Aire Park project. New-look pedestrianised spaces have also been created on Cookridge Street and Greek Street, helping to make the city centre an even more attractive place to visit and live.
This Saturday's celebration event at the Corn Exchange will run from 11am to 4pm and will feature everything from food stalls and music performances to dance and children's craft sessions. Funding for the event has come from the council and Rushbond, with added organisational support from Sisk.
Notes to editors
Getting Building Fund:
On 4 August 2020, the Government confirmed the list of over 300 successful projects which will receive a share of £900m from the Getting Building Fund.
The full list of projects is available on GOV.UK.
The Getting Building Fund is investing in shovel-ready infrastructure projects to create jobs and support economic recovery across the country. Projects funded include:
regeneration of town and city centres
green infrastructure and clean energy
transport and digital connectivity improvements
unlocking of housing and business sites
support for SMEs and learners
The successful projects are expected to deliver up to 85,000 jobs, over 1,500,000 square metres of commercial floor space, unlocking 45,000 homes, almost 1,000,000 square metres of public realm or green space improved or created, over 50,000 new learners assisted and 65 million kgs of CO2 emissions saved.
All projects have been selected by Local Enterprise Partnerships and Mayoral Combined Authorities in each area and endorsed by the Housing Secretary.
Northern Powerhouse:
The Northern Powerhouse is a key aspect of the Government's approach to addressing the productivity gap in the North and ensuring a stronger, more sustainable economy for all parts of the UK.
The Government has awarded £3.4bn in three rounds of Growth Deals across the Northern Powerhouse.
ENDS
For media enquiries contact: