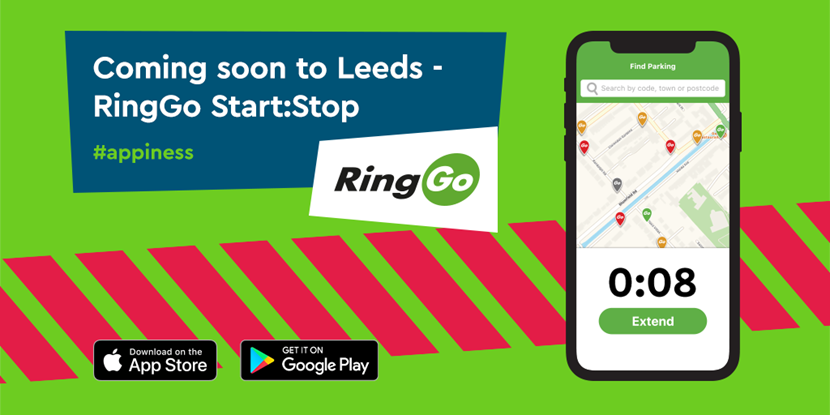 20 Nov 2020
Cashless parking is transferring from Parkmobile to RingGo Start:Stop
RingGo is taking over cashless parking across Leeds City Council from 27 November 2020.
Cashless parking will transfer from Parkmobile to RingGo Start:Stop solution, which means motorists still only pay for the time they are parked. Motorists will do this by simply starting their parking when they arrive and then stopping the parking session, via the app, as they leave.
The Leeds offering differs from elsewhere across the UK, where RingGo's standard "Buy Time" parking operates. With this solution, motorists choose how long they want to stay and pay for their parking time in advance.
Leeds City Council recommends using RingGo as the quickest, safest way to pay for parking. Phone parking means residents and visitors can avoid touching the shared surface of a machine.
RingGo offers motorists a choice of ways to pay: the most popular is via the RingGo app, which can be downloaded free of charge from the App Store or Google Play Store. Users that don't have a smartphone can book their parking by calling, sending a text message, or paying online.
Any existing Parkmobile user that has not used RingGo previously should download the RingGo app and complete their registration to ensure they can park quickly and easily whenever they need to. Anyone who would like to try phone parking for the first time can do the same.
Councillor Mohammed Rafique, executive member for environmental health at Leeds City Council, said:
"We are extremely pleased to be moving to RingGo, allowing motorists the ability to pay only for the time parked. We know this aspect of phone parking was popular with the Parkmobile service, so it is good that we are offering a similar solution with RingGo.
"Our current priority, of course, is to ensure the people of Leeds stay as safe as possible, so this transfer of service could not have come at a better time. Looking forward, we need to ensure the next few months run as smoothly as possible, and the relationship with RingGo will ensure we can do that. We are hoping to introduce further digital solutions over the coming months."
Peter O'Driscoll, Managing Director for RingGo said:
"We are extremely pleased to be supporting Leeds City Council at this crucial time. Over the course of this year, we have seen a massive, unprecedented shift towards phone payments, as motorists have sought safer options. We look forward to seeing this continue in Leeds over the coming years."
ENDS
For media enquiries contact: