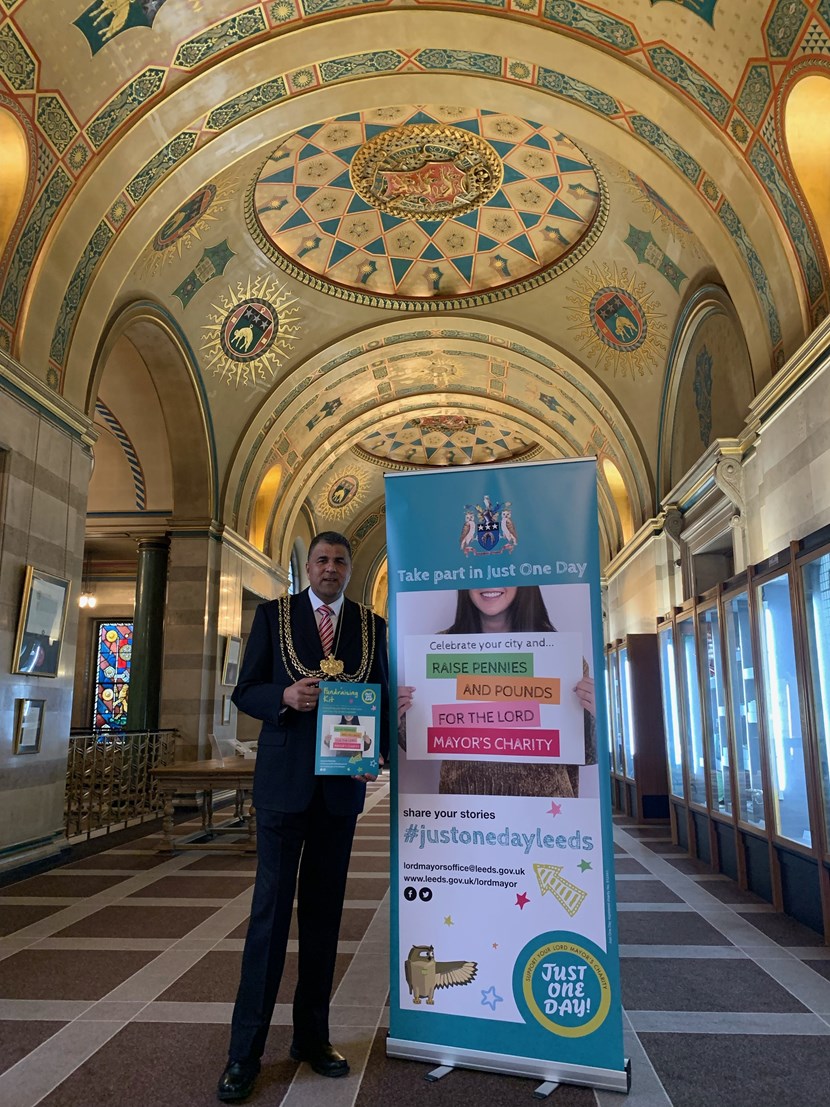 21 Apr 2022
Can you spare 'Just One Day' to support the Lord Mayor's charity appeal?
Local residents, businesses, schools, community groups and organisations are being urged to spare any time they can afford on Friday 20 May to take part in the Lord Mayor's 'Just One Day' charity appeal.
Returning from a virtual hiatus, the Lord Mayor of Leeds, Councillor Asghar Khan is once again encouraging Leeds to come together for 'Just One Day' to raise vital funds for his chosen charity this year, Leeds Hospitals Charity.
There are no rules to how people can raise money for 'Just One Day', whether it is deciding to wear fancy dress to work or school, organising a sponsored event, face painting, or even holding a best joke or spelling competition, nothing is off limits.
The more fun the better, and if you let us know what you are planning, there is also a chance that the Lord Mayor may pay a special visit to your business, group, organisation or school on the day to say a big thank you!
Don't forget to share your fundraising stories and activities on social media by tagging @LordMayorLeeds and @LDShospcharity on Twitter or using the hashtag #JustOneDayLeeds.
The Lord Mayor of Leeds, Councillor Asghar Khan, said: "'Just One Day' is a fantastic opportunity for friends, families and colleagues to come together and have some fun whilst also raising money for a great cause.
"Every penny raised will enable my chosen charity Leeds Hospitals Charity, to continue the vital work they do, day in, day out helping hospitals across Leeds deliver exceptional care for patients.
"Whether you decide to organise a event, make a donation or simply help to spread the word about the important work of Leeds Hospitals Charity, I can't thank you enough for your support."
To find out more about how you can take part in 'Just One Day' or to make a donation, please visit www.leeds.gov.uk/justoneday.
You can also register for a free fundraising pack to help you raise money with your friends, colleagues and family, here.
For media enquiries contact: