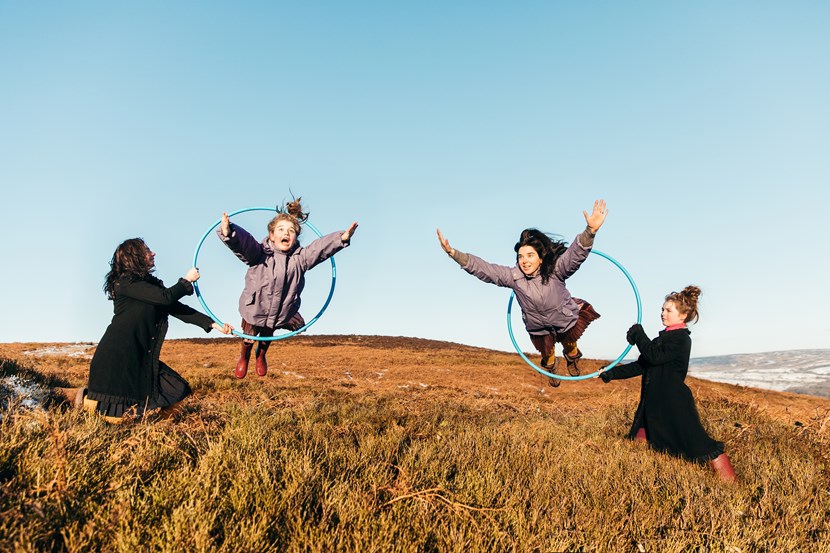 23 Feb 2017
Bringing Leeds together for giant leap towards 2023 title
The exciting campaign to get the whole of Leeds involved in the city's ambitious bid to be named European Capital of Culture 2023 is officially underway today.
As momentum behind the landmark bid continues to build, communities, organisations and individuals from across the city are being called upon to submit their ideas for how to showcase the very best of Leeds to a panel of international judges.
Starting today, a new website www.leeds2023.co.uk will give anyone in the city the opportunity to share their ideas for cultural and creative projects from across communities in Leeds that could help the city win the bid for the title of European Capital of Culture 2023.
The city's impressive network of arts organisations will also be able to get involved along with the businesses, schools, colleges and universities.
Sharon Watson, chair of the Leeds 2023 independent steering group said: "Today marks one of the most exciting milestones so far in our journey towards 2023 as we officially throw the bid open to the people of Leeds and ask them to tell us what they would like to see in a 365 day cultural programme.
"It has always been our ambition that people living and working in Leeds feel the bid is truly collaborative, that it belongs to them and that they've been given a chance to shape and influence it each step of the way.
"That's because we feel passionately that it's those people at the heart of our communities who are best equipped to articulate the creativity and energy that makes Leeds a place where culture in all its many different forms can grow and flourish."
The new website includes a specially-commissioned short film featuring different locations across Leeds, to help inspire communities to dream big and imagine what the city could achieve in 2023.
The launch of the public phase of the Leeds bid comes as the city also officially announces the new programme team who will help bring together the proposed programme of events for 2023.
Matt Burman, Emma Beverley and Jenny Harris known as Collective 23, are a dynamic group of Leeds based producers who have worked extensively in the north, nationally and internationally.
They will pool their skills and connections to bring together a suggested artistic programme to submit for the first stage of the bid, incorporating ideas, suggestions and projects from across the city and its creative artists, makers and producers
Matt, who has previously worked as artistic director for the successful Yorkshire Festival, said: "This will be a key phase in bringing together the events programme, when the people of Leeds begin to give us a real, tangible sense of what culture means to them, how it influences their lives and how it links their communities together.
"We hope to be able to capture some of the passion we as a city have for culture and why it is so important to us.
"There is no experience necessary for this first step in exploring ideas, we're encouraging people to be as bold and imaginative as they can and we will help realise the most exciting of those ideas"
Councillor Judith Blake, leader of Leeds City Council, said: "The people of Leeds will be the real driving force behind making this bid the success we know it will be, and it's their ideas and enthusiasm which will make all the difference.
"We know the sheer scope, scale and originality of the work going on in communities in Leeds each and every day and the challenge is to work alongside those communities to bring their efforts to life for the rest of the world."
For more details about getting involved in the bid, please visit: www.leeds2023.co.uk
ENDS
A ground-breaking new programme of international theatre will take over arts venues across Leeds this spring.
The first project to officially get the backing of the Leeds 2023 bid, Transform 17 comes to the city from April 19-22 with a mix of performance art, outdoor theatre and large-scale shows created with the help of local people.
Featuring three world premieres and two UK premieres, performances will draw on topical themes like community collaboration, the digital age and the future of Europe.
Performers will include acclaimed physical theatre duo RashDash and European choreographers, Florentina Holzinger and Vincent Riebeek.
And Spanish theatre company El Conde de Torrefiel, will bring their spectacular show Guerrilla to England for the very first time.
Guerrilla examines the current generation's thoughts about Europe and their underlying anxieties about the future and will feature more than 50 local people on stage.
Amy Letman, Creative Director of Transform,said: "This edition is our most ambitious yet and aligns with a wider cultural shift happening across Leeds, as the city prepares a bid to become European Capital of Culture 2023. We want to develop Transform as an engine room for boundary pushing, relevant and cross-disciplinary theatre. Transform 17 marks a major step towards this vision, and the development of a locally engaged, international theatre festival for Leeds."
Transform 17 is produced by Transform in partnership with West Yorkshire Playhouse and citywide organisations. It is supported using public funding from the National Lottery through Arts Council England.
Tickets for all Transform 17 events and performances are now available to view and buy online at www.transformfestival.org.
ENDS
Notes to Editors:
Leeds is bidding for the title of European Capital of Culture 2023. The competition can only be hosted by UK five times per century and was last hosted in 2008 when Liverpool won the title. Prior to this Glasgow is the only other city to have won the competition in 1990.
Liverpool's year as European Capital of Culture 2008 is estimated to have resulted in an economic impact of £750 million and opinion surveys showing an 85% increase in satisfaction from the local residents when asked if they liked living in the city.
The Leeds bid is being led by an Independent Steering Group which has cross party support from Leeds City Council. Leeds City Council is already a minority funder of the bid with commercial partners and sponsorship contributing to the cost of bidding.
The bid process takes four years with Leeds starting conversations about bidding in 2014 and expecting a decision in 2018.
The competition is delivered by the European Commission but not specifically for EU Countries. Norway, Iceland and Switzerland are all outside of the EU and have all hosted successful European Capitals of Culture. The competition is administered in the UK by the Department for Culture Media & Sport (DCMS)
Two cities host the competition each year. In 2023 one UK city and one Hungarian city will host the title. Current European Capitals of Culture are Aarhus in Denmark and Pafos in Cyprus.
For more information visit: www.leeds2023.co.uk
Stuart Robinson
Communications Officer
Leeds City Council
Tel: 0113 378 9182 (please note my new number)
Email: stuart.robinson@leeds.gov.uk
www.leeds.gov.uk
For media enquiries contact: