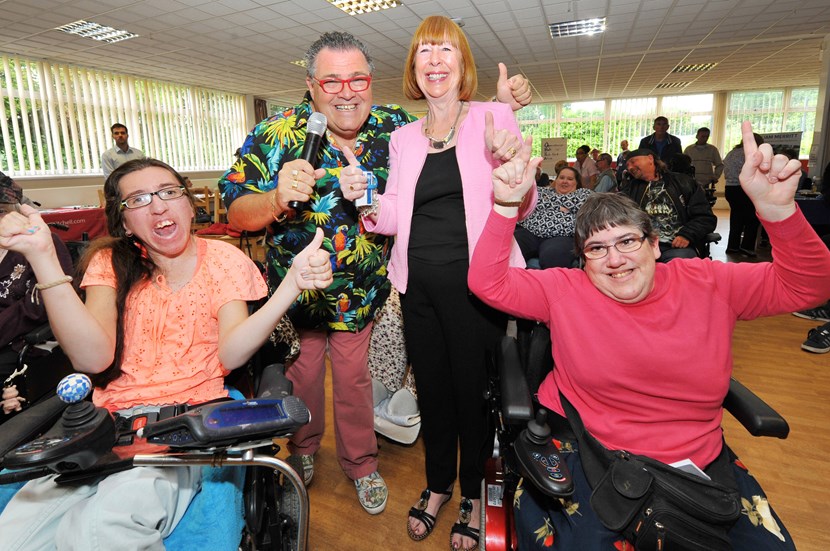 24 Jul 2015
Bit of an Agadoo at community open day
Visitors to the Osmondthorpe Hub's community open day got the chance to do the Agadoo thanks to an appearance by Black Lace frontman Dene Michael.
The pop star was a special guest at the event, which saw local residents come along to find out more about the work being done by the hub.
Part of Leeds City Council's adult social care team, the Osmondthorpe Hub has been supporting people who have a physical impairment or head injury for almost 25 years by offering a wellbeing and networking service.
The open day event included a cake stall, games and a raffle as well as a free barbeque.
Items made by people that attend the hub, including produce, pottery and woodwork were also on sale.
And guests even got the chance to join in with a rendition of some Black Lace favourites including Agadoo, and Superman.
David Fletcher, senior support worker at the Osmondthorpe Hub, said:
"This event was all about inviting people along and showing them how much fun we have here and what the centre is all about.
"Much of the work we do is focussed on breaking down barriers and showing people with a disability that they can still enjoy themselves, socialise and get involved in new activities so we wanted to organise something that would demonstrate that."
Also joining in the fun was Councillor Christine MacNiven, Leeds City Council's lead member for health, wellbeing and adults.
She said: "It was fantastic to see so many people enjoying themselves and taking part and there was a real sense of community spirit on the day.
"The people who attend the Osmondthorpe Hub are an example to everyone that having a disability is no boundary to trying new things and enjoying a great social life and this was a wonderful way to show that to the wider community."
ENDS
Stuart Robinson
Communications Officer
Leeds City Council
Tel: 0113 224 3937
Email: stuart.robinson@leeds.gov.uk
For media enquiries contact: