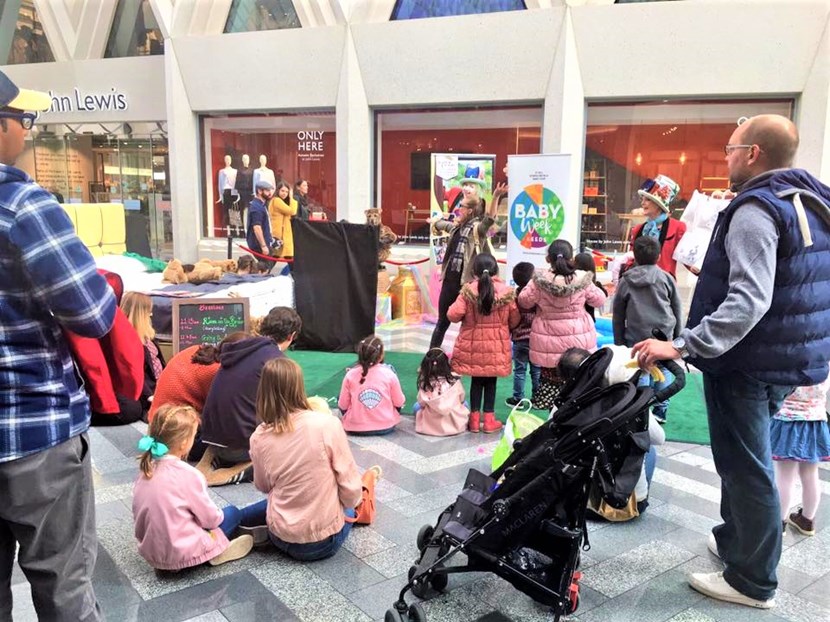 14 Nov 2022
Back to Basics with Baby Week Leeds
Baby Week returns to Leeds today, with over 100 free or low cost events taking place across the city over the week.
This year's theme is 'Back to Basics', which is about rediscovering opportunities, services and support available for expectant and current parents and carers. This could be anything from finding a new parent group, going to the library, enjoying play and sensory experiences, or accessing health and wellbeing support for parents, carers and babies.
Baby Week launched in Leeds in 2016 and now takes place in several cities across the UK. The initiative promotes the best start in life for children and the importance of the first 1001 days. It's also an opportunity for professionals and services across the private, public and voluntary sectors to connect, listen to parents and carers, and enhance the way they work in maternity, health and early years.
Councillor Fiona Venner, Leeds City Council's Executive Member for Adult and Children's Social Care and Health Partnerships said:
"I'm delighted to welcome Baby Week back to Leeds, and it's great to see it getting bigger and better every year.
"Baby Week is part of our Child Friendly Leeds ambition for Leeds to be the best city for children and young people to grow up in. Giving children the best start in life means they are more likely to enjoy a healthy and successful future.
"It's fantastic that other cities in the UK are working with Leeds and hosting Baby Week so that more parents, carers and babies can benefit from the initiative."
Baby Week will draw to a close with a free family-friendly event at The Tetley on Sunday 20 November, which will also celebrate UNICEF's annual World Children's Day.
Sam Neary, The Tetley's Deputy Director, said:
"Here at The Tetley we're more than just an art gallery. Our building is open to everyone, and we're thrilled to be getting involved with Baby Week Leeds and encouraging parents, carers and parents-to-be to head down and enjoy our fantastic warm Leeds welcome."
To find out more about this and other events taking place during Baby Week, visit https://babyweek.co.uk/event/
For media enquiries contact: