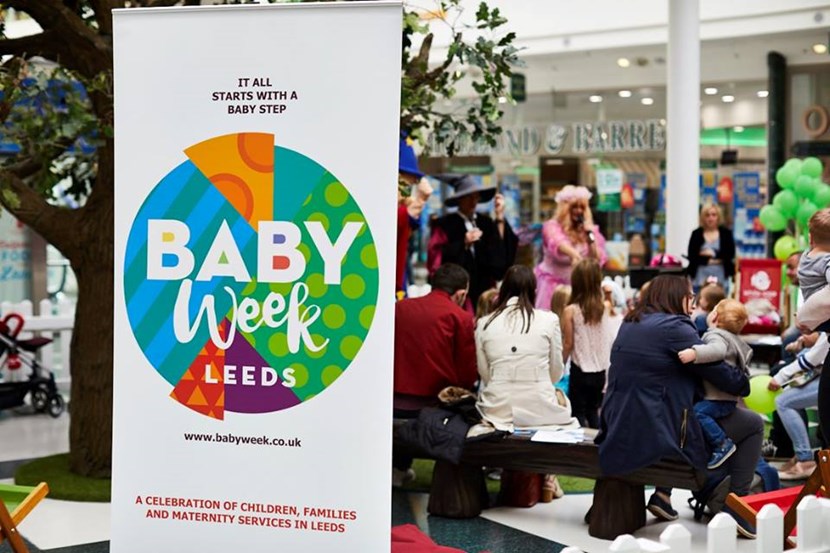 09 Nov 2020
Baby Week Leeds 2020 spreads 'Stay Safe, Stay Connected' message as it celebrates 5 years
Baby Week Leeds returns with a week-long programme of digital events launching today (Monday 9 November).
This year's theme reflects the growing importance of connecting with parents, services and businesses across Leeds during this time. Events will focus on mitigating the impact of lockdown measures on babies, children and their families through the 'Stay Safe, Stay Connected' ethos. The week-long programme aims to raise awareness of services, advocate for early intervention, promote strategies that improve outcomes during pregnancy and in early years, and celebrate success.
To mark the 5th anniversary of Baby Week, events will also have a focus on 5 of the United Nations Sustainable Development Goals including good health and wellbeing, reduced inequality, sustainable cities and communities, climate action and no poverty.
To help raise awareness of climate action and becoming a sustainable city, Baby Week Leeds is working with Leeds City Council and partners to develop a 'Baby Week Forest' which will work towards the council's ambition to plant a tree for every baby born in 2020. Trees planted as part of the Baby Week Forest will be counted towards the White Rose Forest Initiative.
The week will host an array of engaging and informative events including Tuesday's virtual 'Annual Conference' which will focus on best start, mental health and maternity, and experiences during Covid-19. On Friday the 'Ask the experts!' webinar aimed at new and expectant parents will focus on improving maternity services. Children's Centres will also be offering a mix of free activities throughout the week and supporting their local families.
One highlight of this year's celebrations will be a digital exhibition in partnership with Women Friendly Leeds called #DearFutureYou. The initiative began in lockdown and encourages new and expectant parents to write letters to their babies, discussing their hopes and dreams for their future and their experience during this pandemic. Parents and carers involved in any event or activity during Baby Week will be entered into a prize draw for an overnight stay sponsored by Crowne Plaza Hotel Leeds, £100 Gift Card Baby Bundle by Prince Lionheart and a Pamper Hamper by Scent Salim.
Cllr Venner, executive member for children and families and Cllr Charlwood, executive member for adults, health and wellbeing said:
"We are delighted that Baby Week Leeds is able to celebrate its 5th anniversary. With over 75 events and activities planned across the city, it is brilliant that people will be able to come together, albeit virtually, to share ideas and good practice. We congratulate the Child Friendly Leeds team on coordinating such a fantastic week in such challenging circumstances.
"As a city, we are working hard to deliver on our ambition for Leeds to be the best city for children and young people to grow up in. Baby Week shows we are committed to placing children and young people at the heart of everything we do".
Baby Week Leeds' success is owed to its strong city-wide partnership approach from across all sectors. For the full list of free Baby Week activities and to book places please visit our website: https://www.babyweek.co.uk/babyweek2020
ENDS
Notes for editors:
About the Baby Week Forest
Last year, and in response to the climate emergency, Child Friendly Leeds set the ambition to plant one tree for every baby born in 2020 through a series of tree planting events.
To help meet this ambition, Baby Week are working with Leeds City Council and partners to develop a 'Baby Week Forest' which will hold over a quarter of these trees. A series of volunteer days will be held in the New Year to help plant the trees. Please email info@babyweek.co.uk to get involved.
About Baby Week Leeds
Baby Week Leeds launched in September 2016 and is an initiative aimed at bringing sectors and services together to promote the Best Start in life. Baby Week was inspired by a research visit to Canela (Brazil) by Churchill fellow Lucy Potter (Founder) in 2014, Leeds hosted the first English-speaking week. Baby Week Leeds is supported by Child Friendly Leeds, Leeds City Council, NHS Leeds Clinical Commissioning Groups, Leeds Teaching Hospitals and Leeds Community Healthcare and is now a UK registered charity (Charity number 1178324) sharing the initiative across UK. For further information about Baby Week (Leeds) please visit www.babyweek.co.uk
In addition, there are two more Baby Weeks taking place across England in November 2020:
Baby Week Bradford is back for the third time between 9 – 13 November 2020. There will be many amazing events will kick off with the Big (Virtual) Baby Rave with BoomChikkaBoom. For details of the week please visit babyweekbradford.org
Cheshire and Merseyside Baby Week launches its first ever Baby Week from 16 – 22 November 2020. Their programme of events can be found at improvingme.org.uk and includes a very exciting event on 20 November streamed live from New York and Liverpool.
For media enquiries contact: