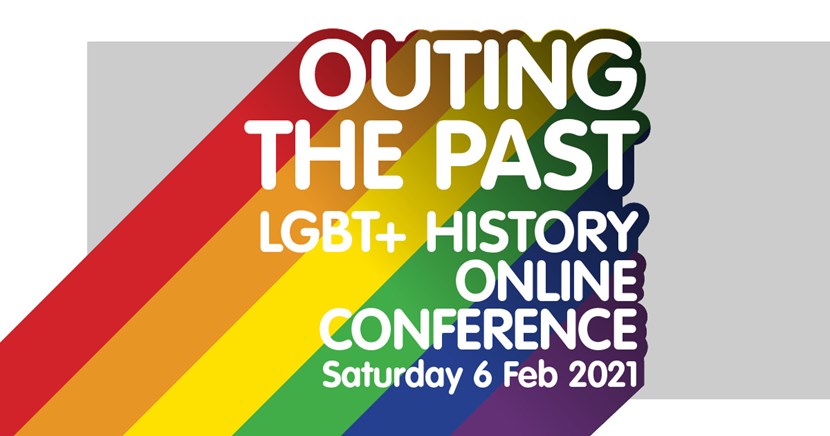 28 Jan 2021
Register now for Leeds's first ever virtual LGBT+ history celebration
Leeds Museums and Galleries are taking their annual celebration of LGBT+ history online for the first time next week.
In 2018, Leeds became part of a national network of host cities for the prestigious OUTing the Past Festival, with its first event taking place in February 2019.
The city would be getting ready to host it's third conference at Leeds City Museum next month, but, due to the current coronavirus restrictions, the event is taking place online for the first time on Saturday 6 February.
Despite the change of format, the event is still free and is set to be more diverse, entertaining and informative than ever before.
Attendees are in for five hours of fascinating talks covering a variety of elements of LGBT+ History, from exploring the relationship between LGBT+ health and the NHS to negotiating queerness as a Commonwealth Immigrant. Other presentations are set to focus on the life and experience of Michael Dillon, a key figure in trans history, and an exploration of asexuality through time.
The digital event will be held on the video conferencing platform Zoom, with plenty of breaks throughout the day.
Anybody who wants to attend will need to register for a ticket at bit.ly/otpfestival. The team will then get in touch to provide more information about joining.
Those who are unfamiliar with Zoom or who need extra support to join the event can email the team at outingthepast@leeds.gov.uk.
Councillor Jonathan Pryor, Leeds City Council's executive member for equalities, said:
"Leeds is a place that proudly embraces diversity, inclusion and progress and recognises the important contribution that the LGBT+ community makes to our city. This is our third year hosting an OUTing the Past event and, although it can't be the same as in previous years, I'm so proud that the team have found a way to still make it happen. I urge people to register for their ticket and spend next Saturday celebrating and learning about LGBT+ history and heritage, from the comfort and safety of their home."
Councillor Hannah Bithell, Leeds City Council's LGBT+ Champion, said:
"We are extremely proud to have the opportunity to host another OUTing the Past event, albeit in a totally new format. The event, held during LGBT+ History Month, provides us with an important opportunity to acknowledge some of the many struggles, sacrifices and triumphs of LGBT+ community in Leeds and beyond. We have some fantastic speakers and presentations lined up and it is set to be a great day of celebration for all."
ENDS
Notes to Editors:
The full programme is as follows:
09:50-10:00 Welcome and Introduction to Outing The Past – Leeds
10:00-10:30 Beth Rees
Yes, Asexuality Does Exist: A look at asexuality then and now. Asexuality is often overlooked in LGBT+ history. This presentation would look at asexual history through time, tell the story of William Pitt The Younger (through an asexual and homoromantic lens), and talk about my experiences as an asexual/aromantic person today.
Interlude (Welcome to the art gallery)
10:40-11:10 Abtin Sadeghi
LGBT+ Health & the NHS. The presentation will include an overview of the health issues that have been particularly important to the LGBT+ community throughout the history of the NHS. This would include the role of the NHS (both positive and negative) in LGBT+ Health over the past 70 years. This will follow on to draw parallels with the current COVID pandemic and the mental and physical health issues affecting the LGBT and BAME communities.
Interlude (art)
11:20-11:50 Katie Robinson
Being transgender. A personal story about growing up Trans in Yorkshire.
Interlude (Angie)
12:00-12:30 Rebecca Hale and Jasmine Moore
Queer Nature: The Powerful Message of LGBTQ+ in the Natural World. LGBT History predominantly focuses on people and with this the natural aspect of diversity in sexuality and gender often remains hidden. To tackle this we created a series of tours at Gressenhall Farm and Workhouse that focused on LGBTQ+ links in nature. The power of these tours showed how natural diversity is and how unnatural prejudice against it is.
12:40-13:00 LUNCH
13:00-13:30 Ibtisam Ahmed
Negotiating queerness as a Commonwealth Immigrant. I specifically talk about the legacies of colonial history, which is often overlooked in the mainstream anyway, and highlights it from the perspective of being an immigrant.
Interlude (art)
13:40-14:10 Brian Crowley
Queering Kilmainham Gaol. By focusing on the queer history of Kilmainham Gaol, this presentation explores the criminalisation of homosexuality in the 19th and early twentieth century. It focuses in particular on the prison's role in the biggest gay scandal in Ireland in the 19th century, the Dublin Castle Scandal of 1884 which saw a fascinating intersection of politics and the judicial system.
Interlude
14:20-14:50 David Ikpo
Queer participatory visibility in Nigerian nations. Based on my own research, I show that indigenous non-heterosexuality from an African nation is important to tackle the flawed argument that queerness is not authentically Africa and authentically human.
Interlude
15:00-15:30 Cheryl Morgan
Michael Dillon in Bristol. Dillon was a key figure in trans history and once described his time in Bristol as the "Darkest of Days". While that is a little disappointing for locals, it is entirely understandable. The process of gender transition is hugely stressful for most trans people. To do it before there were support groups, or any civil rights for trans people, and to do it with World War Two raging around you, must have been incredibly difficult.
15:30-15:40 Final comments and end of the event
For media enquiries contact: