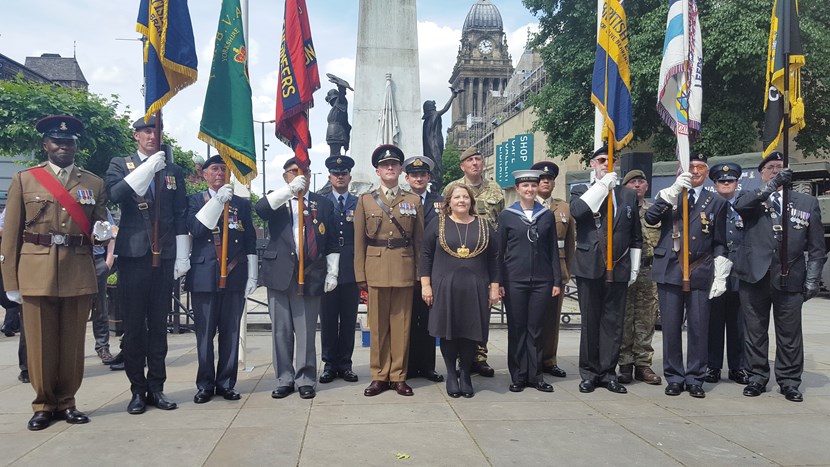 20 Jun 2017
Armed Forces Day celebrations begin in Leeds with flag raising ceremony
The Armed Forces Day flag is once again flying proudly over civic buildings in Leeds as the city comes together this Saturday to recognise and celebrate the outstanding dedication and commitment of the British Armed Forces.
The Lord Mayor of Leeds Cllr Jane Dowson hoisted the official Armed Forces flag next to the war memorial as part of a special ceremony held on Victoria Gardens which was also attended by service personnel from the armed forces, cadets, veterans and members of the public.
With the Armed Forces flag now also flying with great pride above Leeds Town Hall and Leeds Civic Hall, the countdown has now officially started in the city for Armed Forces Day, which will be held this Saturday, June 24 2017.
In what promises to be one of the biggest Armed Forces Day events ever to be held in Leeds, a packed programme of activities and events has once again been put together to keep all the family entertained in locations including Millennium Square, Victoria Gardens and Cookridge Street from 11am-4pm.
Beginning the festivities will be the now traditional march through the city centre, featuring serving personnel and veterans. This year the parade will be led by Royal Navy officers from HMS Audacious in tribute to the astute-class submarine being officially tied to the city of Leeds in 2016. Charity and armed forces linked stalls will also be available along with a display of military vehicles and two Second World War-era aircraft. Visitors will also be able to see a German ME109 and a legendary Spitfire which will be situated on Millennium Square and even sit in the static aircrafts for photos. On offer for youngsters to enjoy will be a Breeze bungee run, shooting range, arts, crafts and bouncy castle.
There will also be the chance for the public to suit up and wear kit worn by military personnel, and see at close-hand some of the weaponry that the services use.
Please note: unfortunately due to technical issues, the planned flyover of the Lancaster Bomber on Armed Forces Day will now not take place.
Leeds has a proud and historic link with the British Armed Forces, which includes in 2012 the council signing the Armed Forces Community Covenant. This covenant ensures that a variety of support, help and guidance is available to in-service personnel, veterans and their families.
To keep up to date on Leeds Armed Forces Day, please see: www.leeds.gov.uk/armedforcesday or Facebook at: https://www.facebook.com/Leedscouncil/
The Lord Mayor of Leeds Councillor Jane Dowson, said:
"Leeds has a rich and historic link with our armed forces. It is fantastic that as part of our annual Armed Forces Day event we have the chance to come together, celebrate and thank both serving personnel and veterans for their tremendous service. It was a real honour for me as Lord Mayor to raise the Armed Forces Day flag on Victoria Gardens.
"This year's programme promises to be one of the biggest yet and we are really looking forward to another brilliant crowd attending on Saturday. There is always a real family-feel about Armed Forces Day. There are too many highlights to mention."
Leeds City Council's armed forces champion Councillor Graham Hyde, said:
"To see Armed Forces Day become one of the biggest and most popular events that we hold in our city shows the esteem and respect that the people of Leeds and the wider region hold for members of our armed forces and our veterans.
"I am pleased to say that our veterans alongside current serving personnel play a very important role on the day, and this is a great chance to come down on the day and speak to them about their experiences and what being a member of the armed forces means to them.
"Along with events such as Armed Forces Day, we undertake a lot of work throughout the year as a council to provide a range of support to serving personnel and veterans. We are for example extremely proud as a council to be signed up to our own Armed Forces Community Covenant, which offers both help and advice with a wide range of needs."
For media enquiries, please contact;
Colin Dickinson, Leeds City Council press office (0113) 39 51578
Email: colin.dickinson@leeds.gov.uk
For media enquiries contact: