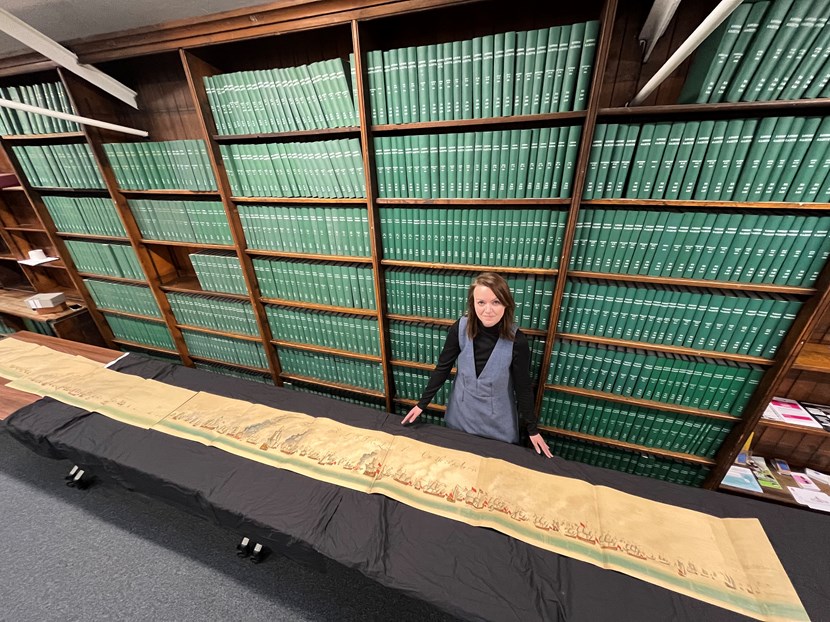 30 Jan 2023
All hands on deck as library's epic naval battle unfolds
An epic, century-old "Instagram story" featuring pivotal scenes from a dramatic naval conflict waged by British ships has unfolded during research by librarians in Leeds.
The step-by-step, illustrated account, estimated to be more than 50 feet in length, documents every cannon blast and flaming sail from the pivotal battles of Solebay and Texel which took place in the 1670s.
The team at Leeds Central Library this week began the painstaking task of unfurling each individual stage of the impressive document, based on a series of live sketches that were speedily committed to parchment by an unknown artist at the time of the actual battles.
The library's naval battle document itself dates from around 1908 and is among a collection of more than 3,000 books, pamphlets and periodicals donated by noted Leeds aristocrat and diplomat Sir Alvary Gascoigne in memory of his father the naval and military history buff Colonel F.R.T. Gascoigne.
Rhian Isaac, senior librarian at Leeds Central Library, who is currently researching the library's Gascoigne Collection, said: "There's an astonishing amount of detail included in this document, with each individual ship and naval manoeuvre captured so minutely, you can actually see the battles played out step-by-step, much like an Instagram or social media story would do today.
"The sheer scope and scale of the illustrations makes it a real challenge to piece it all together, but it's fascinating to be able to connect so directly with the original artist's enthusiasm for naval history and with their desire to capture every step of what were clearly important events.
"That passion for creating a visual record of significant moments, even before the age of cameras and mobile phones, is something which is clearly a common thread for people throughout history and it's a privilege to have such a superb example in our collection."
The Battle of Solebay was the first naval battle of the Third Anglo-Dutch War and saw an estimated 190 warships involved in a fierce conflict in what is now Southwold Bay in Suffolk.
A joint Anglo-French fleet anchored in the bay was surprised by Dutch ships but the battle ended in a hard-fought draw, with both sides claiming victory.
The Battle of Texel marked the final major naval clash of the conflict off the coast of The Netherlands. A gruelling encounter, the battle saw both sides suffer badly in hours of fighting which cost the lives of around 3,000 sailors.
Sir Alvary Gascoigne's collection, which includes the accounts of the battles, was donated to Leeds Libraries in 1968 and included army and navy lists from the early nineteenth century and regimental histories.
The last private owner of Lotherton Hall, his long and distinguished diplomatic career took him across the globe.
Councillor Mary Harland, Leeds City Council executive member for communities, said: "We're extremely fortunate to have such a detailed and fascinating record of the history of Leeds in our collection which really captures the city's unique heritage.
"The work of our teams across Leeds ensures that our libraries continue to be incredible, accessible and welcoming places filled with so many stories and things to discover."
For more information about libraries in Leeds, including a programme local history events and activities, please visit: http://www.leeds.gov.uk/libraries
ENDS
For media enquiries contact: