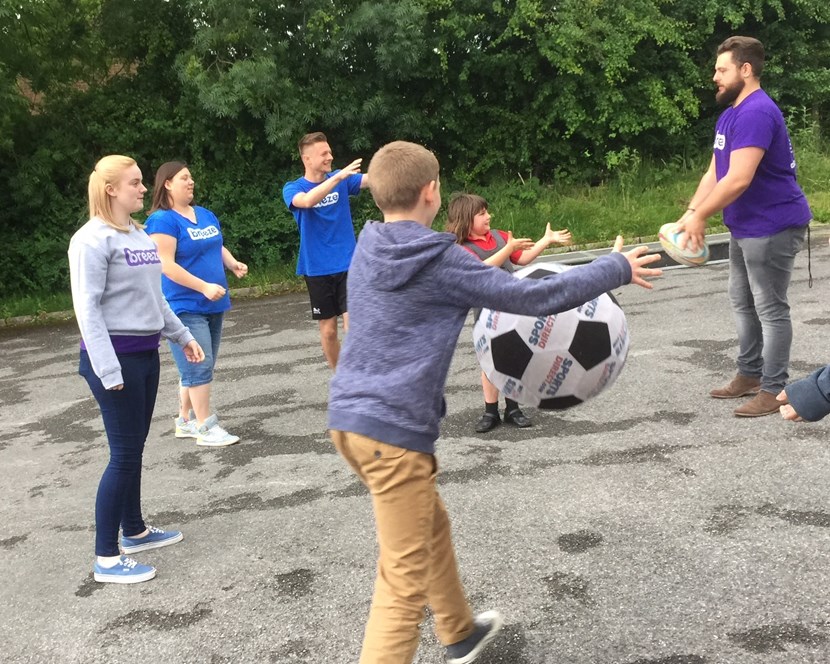 25 Jun 2015
A summer of fun begins in west Leeds
Young people across west Leeds are set for a summer of fun this year, when #BreezeGames heads their way later this week.
Hot on the heels of the success of recent #BreezeGames programmes in areas of west Leeds, the project returns by popular demand.
#BreezeGames offers challenges for children and young people - and parents too, to compete across a wide variety of team and individual games and fun activities. All of the games and sports are chosen so that children are able to quickly learn them and continue to play with low cost or no cost equipment and materials.
It includes traditional street games such as British Bulldog and old favourites with a modern twist like (Fifa) street football; demonstrations of popular sporty games like rounders and kwik cricket. For the less sporty there are card games, board games, paper games, word games and cheap and cheerful craft activities that can also be replicated at home.
Councillor Alice Smart, lead member for child friendly city said:
"Playing is such an important part of growing up, but far too many children don't get the opportunity to get outside and have fun. Playing is not only fun but it also helps children develop social skills and learn about rules and boundaries.
"This is a great opportunity for the youngsters across west Leeds to rediscover the fun of playing out. The Breeze team have organised lots of different games and activities so there will be something for everyone to try, and hopefully the children will make lots of new friends too whilst have a real summer of fun."
The programme will run in seven communities in west Leeds, (Swinnow, Wortley, Farnley, Farsley, Calverley, Pudsey and Armley).
At the Ley Lane session in Armley, to celebrate the installation of outdoor gym equipment purchased by the Armley ward members, children and young people will be able to take part in additional fitness challenges as they learn how to use the equipment safely. They can also win free tickets for summer holiday activities being run at Armley Leisure Centre.
All of the programmes will lead up to the start of the Breeze on Tour summer programme with Mini Breeze events being run in Farsley, Farnley and Swinnow, and with the main Breeze on Tour event returning to Armley Park.
The project is led by Leeds City Council's Breeze Team, and is being funded by the Outer and Inner West Community Committees and the Housing Advisory Panels for Swinnow and Armley.
#BreezeGames will take place across west Leeds between 29 June and 25 July. The weekday evening sessions will be held between 6.30 and 8.30pm at the following locations:
Monday- Swinnow Moor and Community Centre
Tuesday- Wortley Recreation Ground
Wednesday- Farnley Community Centre Green Space (Bawn Avenue)
Thursday- Farfield Avenue Green space, Farsley
Friday- Calverley Victoria Park
Saturday – 10.30-12.30 Ley Lane Recreation Ground Armley and 2.30- 4.30 Pudsey Park
For media enquiries contact: